monday.com for Marketing teams
monday.com for Marketing, an intuitive and inclusive Work OS connects Marketing execs to the data that matters, and marketing teams to the entire organization— making work move faster and impact easy to measure.
From chasing one-off tasks
to building scalable and impact-driven business growth
Different marketing teams have different workflows, but monday.com is flexible to meet the needs of each—all while creating a shared space to collaborate together. Instead of working twice as hard for half of the impact, monday.com powers marketing teams to plan together, set clearly defined goals, and benefit from shared knowledge.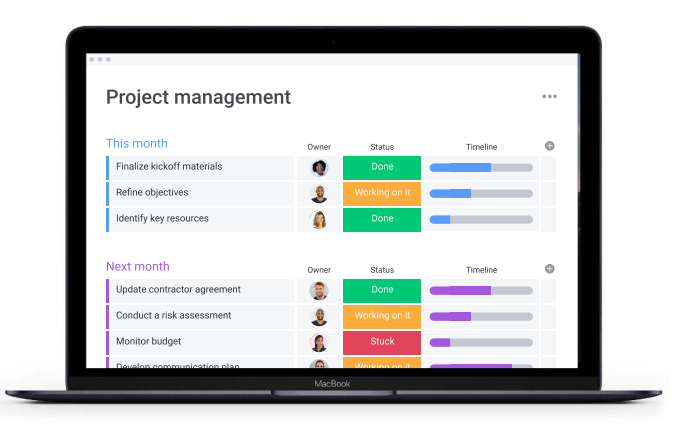 monday.com for Marketing A flexible platform
for any marketing workflow
Building and optimizing your workflows is simple with drag-and-drop building blocks. Adding views,
widgets, automations, and more help streamline how your teams work and turn your account into a
tailored solution just for you. Learn more at monday.com
Content marketing
Organize content requests into the team's workflow
Sync content and design teams around the same
timeline and priorities
Share information with freelancers in a secure
environment
Build and share content calendars to set expectations
and goals
Manage SEO and create content aligned to strategy
Gain valuable insights into how your team works
Acquisition marketing
Develop a scalable execution plan for each
campaign
Track data and compare with KPIs
Event management
Manage all event content and logistics in one place
Share, revise, and approve everything you need for
your event
Filter leads into boards and manage contact
reach-outs
Use forms to collect attendee's feedback
Manage budget and track success easily
Since adopting monday.com, our global marketing department has seen a 40% improvement in cross-team collaboration for successful end-to-end campaign planning and execution."
Sarah Pharr, AVP, Marketing
Accelerate all marketing work
processes
with monday.com for Marketing
Respond to business needs in a scalable way
Businesses have to pivot fast in order to keep up with changing needs in the market, and marketing
is often left trying to keep up. Having repeatable, scalable process and easy access to high-level
analytics means marketing can lead initiatives—not just try to keep up.
Manage work requests with ease
One-off requests should never be any team's full-time job. But, a one-pager here and a blog
request there can end up eating up a lot of valuable time. monday.com uses boards and
forms to build a clear and scalable process for integrating work requests into the marketing
department's workflow. Visually intuitive analytics help shed light on how your team works and
where you can improve.
Balance the team's workload at all times
Gaining transparency into everyone's capacity can feel near impossible, leading to burnout in some
employees and underutilization of others. monday.com offers a Workload widget which helps
visually display the availability of every team member to ensure a healthier spread of
responsibility.
Bring distributed teams together
Managing all of the moving parts of a marketing team while working remotely can create a whole
new set of challenges. monday.com offers an online workspace to collaborate, brainstorm,
annotate, plan, and track all of the department's work without skipping a beat.
Break down organizational silos
To create a high-functioning marketing team, content, acquisition, brand, PR, and design all need
to be on the same page. But sometimes, just staying synced can be a full-time job. With
stakeholders and multiple teams working from the same Work OS, it's easy to stay informed and push initiatives forward.
Integrate with the tools
that help your team succeed
monday.com for Marketing Integrations with Adobe CC, Facebook, LinkedIn, Hubspot, G suite, MS 365, Slack, and
more bring all of your must-have data into one centralized platform.
Discover what else is possible with monday.com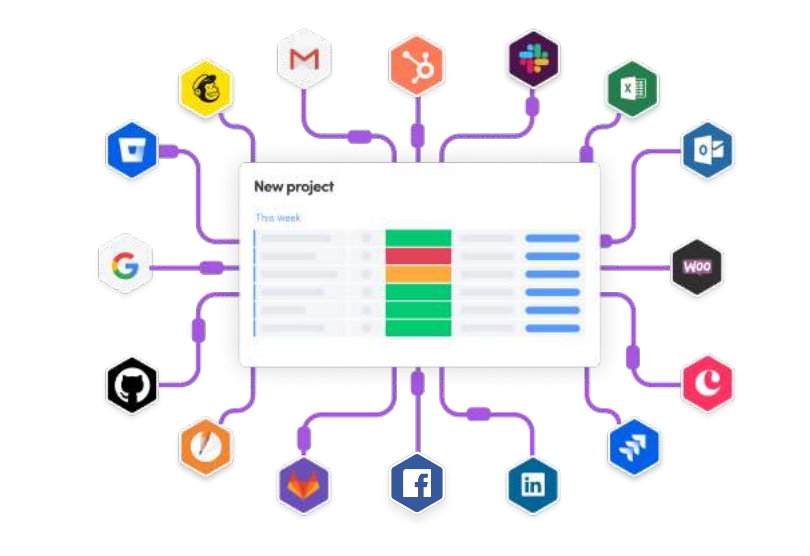 Discover other CRM tools
monday Apps Framework
Unlocking infinite capabilities
to the monday.com Work OS
Apps.
The functionality that transformed your mobile phone into an all-capable device. With the monday Apps Framework, that same customizable experience is available for your digital workspace.
Today, your smartphone's operating system and apps allow you to tailor your device to your unique needs – from social media, to GPS navigation, video conferencing, gaming, shopping, music
streaming, and much more.
monday Apps is doing that to monday.com – providing organizations with endless flexibility to transform their Work OS and supercharge their teams.
monday Apps
within the Work OS
Need a unique feature that doesn't exist to complete your workflow? With your development resources, if you can dream it, you can build it.
monday.com's Work OS is made up of building blocks that you can drag & drop to shape workflows in minutes and help teams get work done, from anywhere.
The monday Apps Framework is integral to the Work OS, allowing limitless innovation within
monday.com.
Same amazing platform – with even greater flexibility. Your team is still working on the
same easy-to-love platform, the only difference? If you need to build a tailored workflow or functionality, you are free to build and innovate at your own pace. Support any current or future business need with monday Apps.
As a solutions consultant, we're in the business of solving problems for our  customers and monday Apps Framework really empowers us to say yes more often to our clients."

Jack Taylor,
Managing Director, JT's Cloud
Smooth path to success.
From business need to monday App in two simple steps
1. Choose between the two types of apps
View and Widget apps: These apps allow you to display data in a visual way, and would
usually be developed in JavaScript, HTML and CSS
Integration apps: These apps sync data from any software, platform, or service directly into
your monday.com account. They do not necessarily involve UI, but enable you perform
actions in one system triggered by actions in another. The integrations can be written in any
server language
2. Use our Professional Services to build an app for you
Reach out to your monday.com point of contact with your app request. If your need is not
already included on our future plans, we will match you with one of our 80+ certified global
partners in less than 5 business days.
Your partner will join you and your monday.com representative for a locally tailored discovery
call, available on-site or remotely, to understand your need and provide a quote for you. The
partner will deliver your final app within 2-4 days (for simple apps), for your immediate use.
Or
Start building with your in-house dev resources
A basic knowledge and skillset in development is needed to start building most apps, with increased knowledge required as the complexity of the app increases. You can anticipate an influx of feature requests from teams across the organization once they learn that custom apps are possible. Use this as an opportunity to drastically improve the efficiency of your organization's processes.