Search Engine Optimisation
Search engines are, without a doubt, the most effective marketing channel for gaining attention. In reality, search engines are the most common way for internet consumers to learn about new products and services. This has significant consequences for firms who use the channel for advertising, especially as individuals search on Google at a rate of almost 95,000 times each second.
Every language has millions of possible search phrases that people search for. Identifying the key intent search words that people use and creating targeted content to pull those searches into YOUR website much like a baited fishing rod WILL increase your traffic.
We will apply the pillar-cluster methodology into your blog / content to create a healthy organic presence online. We'll use this method to develop 'power' pillar pages that give  long form information of a topic and links to cluster pages that go deeper into the subtopics. This tells Google that your pillar page is knowledgeable about the subject.
Content in Google's eyes is king. High quality, long form content that provides value and actual use to the reader will likely bring traffic and increase conversions. Its not a rocket science strategy. Your Google Search Console is already surfacing 100s of keyword ideas for you with the view that you will push those words into a paid Google ads campaign.
However, we propose you invest that ad budget into creating useful long form content per keyword opportunity, seeded with intent based keywords, optimise for mobile, apply on-page optimisation, and follow the pillar cluster model to secure first page organic search ranking. There are other white hat and black hat SEO techniques but this approach is honest, simple and effective.
Search has been evolving as a product and behaviour since Excite and Alta Vista went they way of the dinosaur. Our search engine optimisation (SEO) services are built to increase and improve visibility of your brand, product and services. We offer a fully integrated approach to search engine marketing which looks at the behaviour of customers. Our Search marketing optimisation considers all the touch points a consumer may visit and not only Google.
This means that enhancing all of your company's current channels will almost certainly boost traffic and conversions. While a website may come to mind when considering SEO, you should also consider your YouTube channel, Google Maps Google My Business page, blog, and even podcast episodes.
There is a school of thought that Amazon is the 2nd biggest search engine in the world. How can this be when its an e-commerce portal? Facebook's search is getting smarter. For news and other content people go to Twitter not Google first. For hotel reviews do you use Google or Tripadvisor? Search is ever present in the consumer journey.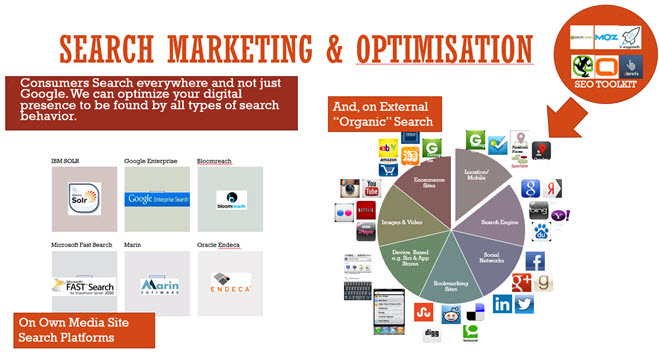 Search marketing optimisation is the framework & process of affecting the visibility of a website. As a growth marketing strategy, there are many factors to consider. How does the search engine work, what are people searching for, the actual keywords used. For you we may target different kinds of search behaviour to optimise your presence. This could include image search, local search [if you have a physical store for example], social search, video search, academic search, news search and industry-specific vertical search engines. Search is a universal behaviour and people will always be looking for something somewhere.
So people search all kinds of external websites and apps to discover content or shopping links and they eventually will end up on your site. One of the most common overlooked areas is optimising your internal site search engine. Some internal site engines come out of the box with e.g. WordPress and Magento. Or there are  custom solutions like Endeca or Google Enterprise search. These platforms are driven and optimised via rules and triggers. And these rules need to be maintained and cleaned up and tweaked to ensure that site visitors can find what they are looking for.
A common loss of income and orders is because people simply cannot find what they are looking for on your website simply because its not been optimised. Imagine you have what they are looking for and they leave without finding it. What impression will they leave with? On e-commerce sites benchmarks are that 50% of site visitors will first visit site search to find what they are looking for.
So we can produce a plan for your search marketing optimisation to focus on one channel, multiple channels and of course your own website search.
Get in touch to learn more about our Search Engine Optimisation solution