Why a Chatbot Agency Messenger CHATBOT solution ?
Why are they such a big opportunity?
5BN
Messaging Apps have combined 5bn users. Facebook Messenger alone has 1 billion active users.
Why CHATBOT? Why use a chatbot agency?
Why do I need chatbots?
Lost Sales
After the first 5 minutes, there's a 10x decrease in your odds of making contact with a lead.
Huge Support Cost
Upto 80% of customer queries are repetitive and from users who don't buy
Conversions in Marketing
1. Replacement Of Landing Pages
2. Substitute for Email & SMS marketing
What are the
USE CASES?
Can a Chatbot Agency Solution help me in my product?
New Channel
Reach users where they are – 5bn easily accessible users. As a chatbot agency we have seen some amazing results.
e-Commerce
End to end interactive E-com right inside messaging apps –  Search, Order, Book & Pay
Engagement & Notification
1. Reduce cart abandonment by 35%
2. Easy retargeting through notification s on pre- installed FB messenger
3. Sell through FB posts –  Auto chatbot popup on comments
4. Build a subscriber base
Why
BOTS
in Marketing?
So, what about Marketing?
I like landing pages. Whats the problem?
2.35%
As an experienced marketer, you would know that avg conversion rate of landing pages is 2.35% .
So, what?
30%
As a chatbot agency we have observed this is the conversion rate over a Messenger Chatbot Solution. Do I need to say more?
But where will the chatbot be ??
Seems like I've got your interest. I'll answer that in the platforms slide a bit further down.
Why
BOTS
over Email Marketing?
And what's wrong with email  marketing?
You know what email open rates are right?
20%, I believe
And click thru rates are
A mere 4.53%, I must say
So, what are Open rates on Bots then? 🙂
~80% Bruv.
I'm not being facecious or flippant, my coder was a Londoner and made me say bruv. I digress…
Are you sure? 80%? and what about CTR?
~13%
I know it's hard to believe. Check out this hubspot blog below.
Why
BOTS
in Customer Support? We're not just a marketing chatbot agency.
Do you know the %tage of repeat queries a Service Agent gets?
80%.
Exactly. And don't forget the users who just talk but don't buy
And using chatbots instead of Agents reduces cost by
50% !!
Gartner predicts by 2020, 85% of  customer interactions won't  involve humans
85%
SUCCESS
STORIES
Can you share some Case Studies?
Of course, please click on the Brands below. The PDF will open in a new tab.
And here are some brands from India only. We are a UK based company with some of our team in India. The PDF will open in a new tab.
What
PLATFORM
are Chatbots used on?
I don't understand, where will the user use chatbots?
on these interfaces and many more..A Messenger Chatbot Solution can be built on pretty much any platform

Seems complicated
It's NOT. For marketers and agencies, Facebook messenger and own website are two of the most important channels
Hey, can I show you some examples?
I was ABOUT to SAY 🙂
Please give us your name and email below so we can schedule a chat about your requirements. Then we can pick out the best examples to show you
[contact-form-7 id="13710″]
Why
Growth Hakka?
Unique Features
But why should I choose you as my chatbot agency to to deliver my Messenger Chatbot Solution?
Me? I am just a bot. But my team at Growth Hakka has years of experience as a chatbot agency  in bot creation, marketing, data, product design and more. We are the only ones to provide tailormade features. As a chatbot agency we deploy and utilise a number of disciplines:
A/B
Test multiple variants through A/B Testing and Optimisation
How is it different from web A/B testing?
A bot UI/UX is not about buttons and  colors, it includes –

Personality Test
Linguistic Test
e.g. choosing the right language, tone of voice, slang expressions, dialect and so forth

Drop Off Analysis
Analyse where people drop off in the flow

Is that it? Any other unique features?
Absolutely not! There is also

Audience Segmentation
Content Marketing Plan
Source Based flow
Like websites, can integrate third party widgets like google calendar, sheets etc.
Yes and on top of that Growth Hakka can also provide utility widgets like booking food, cabs, newsletters etc

Why do I need these widgets like cab or food booking etc
Engagement
For the user to keep visiting the bot there should be new content

What About
Artificial
Intelligence
But how will I manage leads from a Messenger Chatbot Solution? Won't it be difficult??

Remember we are Growth Hackers. Its already taken care of in our builds by way of
CRM Integration
My team will be given an open API and help in best possible way for CRM integrations
Open APIs
I need an AI bot please
AI
Our team of developers are experienced in NLP and deep learning, technologies behind AI bots. Are you sure you need AI?
I dont know..
Lets discuss and see if you really need it.
What is the
PROCESS
to Bot Building?
Would you like to know our inhouse process of bot building for Messenger Chatbot Solution?

Oh go on then enlighten me
Four steps we follow sequentially

Bot Scope
Make it ultra clear what people can expect from the bot
Bot Personality
Personality that fits perfectly with the user the Brand and the situation
List of features
Prioritised list of features
The Chatbot Flow
This is how we finalise the requirements, including platforms, integrations, AI etc
Messenger Chatbot Solution – Even more use cases
If you decide to work with us as your chatbot agency. We can create messenger chatbot solution to suit your specific requirements. There are many possible use cases.

Customer Service
Getting more messages on Facebook than your customer service team can efficiently handle? Is your Facebook page responsiveness rate slipping? Are you receivingmessages outside of regular hours? Maybe you want to reduce customer agents costs? Our Facebook Messenger Chatbot Solution will easily integrate with your current services.
Sports Team or Members Club
Create a unique experience for your fans and followers. Provide fixture and ticketing details, news, offers and coupons, highlights reels, game-day info, squad and player info. Similarly, for clubs or meets provide relevant information.
 Services
Answer customer questions via chat about the menu, opening hours, make reservations, share unique requirements.
 Business Assistant
Do you get asked the same type of questions regularly? Share info about your company and its services, set up an FAQ, and even let users chat live with the boss!
 Events Assistant
Set up notifications for upcoming events, hot ticket deals, parking info, directions, nearby hotels and more.
Personal Replica or Avatar
How about your own personal chatbot? A personal assistant that can automate answers to frequently asked questions share info about yourself to enquirers or even present a portfolio for them to browse.
Media
Regardless of the size of the organisation. Either a large publisher with multiple publications or a smaller magazine, we can make your audience's chatbot experience rich, smooth and fun.
AI that understands and answers user requests
We will set up conversational rules for your bot and your bot will recognize similar phrases from users. Then, your chatbot, using Natural Language Processing will understand and send users your pre-defined answers. Seamlessly.
Multiple choices to seamlessly integrate with all your favourite services
From Facebook Messenger to Slack to everything in between. We can cover most platforms.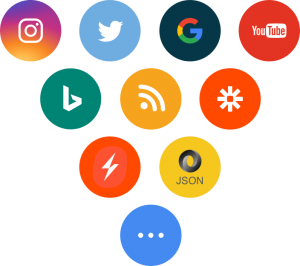 Let us help make an AI bot for you!
Alexa Voice Chatbot Skills
Amazon made their Alexa voice tech available to developers to build chatbots. Amazon's Lex platform makes it easy for developers to build conversational interfaces.
We can build Alexa skills and chatbots for your brand, product or service. Talk to us about what you are thinking to do and we can work together on a plan for a bot.
Questions to ask of your Chatbot Supplier