Question: Whats a big driver of engagement and customer retention? Answer: Gamification. Or Gamification services are about the use of game thinking and game mechanics without the customer actually taking time out to play a game.
One of gamification's biggest applications is in marketing. Over 70% of Forbes Global 2000 companies surveyed in 2013 said they planned to use gamification for the purposes of marketing and customer retention. If executed correctly, gamification can generate lasting ROI with real business value. As a gamification agency focused on strategy definition we work around the current crop of gamification platforms, like Badgeville, Bunchball, Captain Up or Gigya. Some common examples of gamification
include; Unlocking badges or earning points and unlocking exclusive content. People can level up or earn credits for your store by engaging with and consuming content on your website.
Literally anything can be gamified and you can even link it your offline presence if you have it. Once people realise they can earn money off for example it can really drive engagement and retention.
At Growth Hakka, as a gamification agency we utilise the Octalysis methodology to define your gamification framework.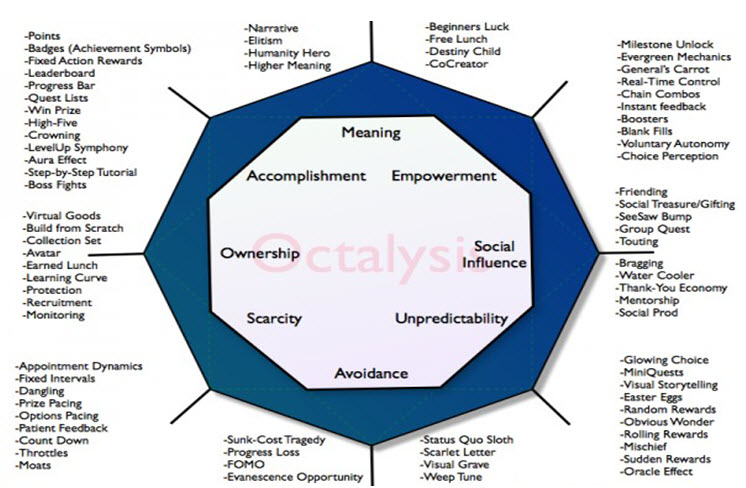 Visually, the Octalysis is an octagonal chart diagramming the Eight Core Drives of Gamification services. As you can see below this can encompass aspects like points so the user achieves a sense of accomplishment or allowing people to add friends to grow their social influence. The below are just options and you do not have to implement or consider them all. Its about what is right for your business and product. Octalysis for Facebook and Twitter could look something like the below image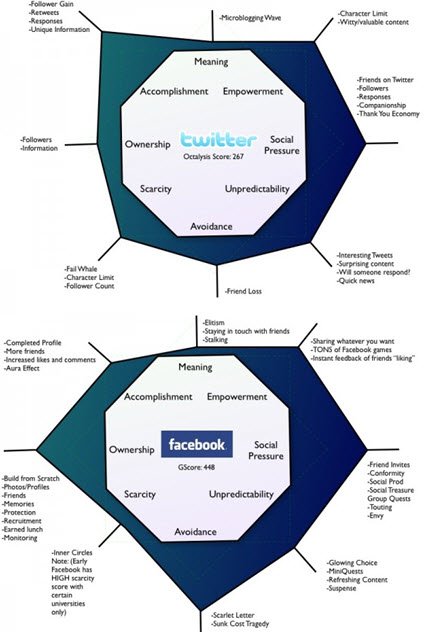 .
So if you are ready to get your game on, give us a shout! Have a look at this Quora question on gamification agencies for more information.