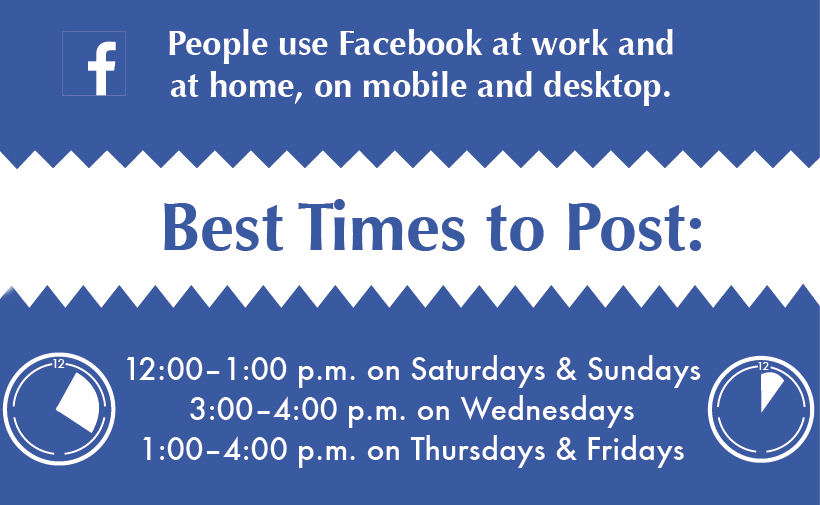 Its very Important your Facebook Posts are Timed Correctly .Facebook is by far the largest Social Network on the Planet.With over 1 Billion Active Users .Facebook posts are shared in the Millions Every minute.
The user stat's are mind blowing.That's why it is very important to use Social media to amplify the great content you're creating.
But it isn't good enough to just post content to social media sites whenever you feel like it. Some times are better than others.
Insuring your Great Content is Published at the right time & day is essential as you actually want people to see your post ,comment,like or share to gain Greater Exposure for your Business or Brand.
If you post your content at the wrong time their is a High chance that it will largely be unseen by your target audience. With millions of post's generated every minute on Facebook it's very easy togo missin
The Best times to make your posts on Social media depend on a variety of Factors .Below we have listed the Main Factors you should think about before publishing your post.
What Platform are you making your post on i.e Facebook,Twitter,Instagram Etc.
The Geographic Location and time zones of the Countries you want to Reach.Their is no point making a post for the USA audience when it's  4 am in the morning their.
Your Goals ? Are you after Clicks, Shares or Likes.
How your Target Audience interacts with your chosen platform .For Example The Great Photo sharing site Instagram gets 4 x times more interaction from users than Twitter & Facebook users combined.
Facebook users log on at Home & Work from Multiple Devices ,Including Desk Top, Mobile & Tablets.When they are at work they will most likely log on while they are on their lunch Breaks or while commuting to and from work.

Best times to Make Facebook Posts :

So let's take a Closer look at the Best times to Post.
Monday's & Tuesdays are always busy days so the Best times to catch your audience are between 1 – 3 Pm.
Best times to post on Wednesdays are between 3-4 Pm.
Thursdays & Fridays are bit more Relaxed than other days so it's a Good  to post between 1-4 Pm.
Many people will sleep in on the weekend so the Best times to post are between 12 -1 Pm.

Thanks for Reading

Tagged with: